Who is the Har-Conn Chrome Company?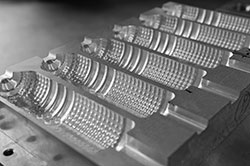 We are one of the largest independently owned aerospace processing firms in the world. We have specialized in aerospace and high technology applications of electroplated and related coatings for over seventy years. Our reputation for quality and service is outstanding. Just ask any of our more than 2000 customers worldwide!
You can find our work in such diverse areas as the space shuttle, the missile program, military and commercial aircraft engine, airframe and landing gear, surgical instruments, computer components, avionics, laser equipment, automotive and electronic equipment.
What do we do?
We apply engineering type electroplated and electroless coatings. We also apply dry film lubricants, sprayed high temperature coatings used for corrosion resistance, and chemical conversion coatings. We repair worn or mis-machined parts to restore dimensional tolerances. We process very large parts (e.g., jet engine turbine cases and landing gear cylinders), and very small parts (e.g., cobalt X-Ray elements, 1.6 million pieces to the kilogram).
How good are we?
Our annual customer rejection rate (parts rejected by customer/total parts processed) has been consistently less than 0.5% for all processing. We are proud of this record. We have found that good quality means good customers. Low rejects save our customers time and money - by getting the job done right the first time.